Copper has an exchange program with FIDELITY magazine (and others), where we share articles, including this one, between publications.
At least I can't remember ever having seen such a joy of color in terms of veneer and paint at a Munich trade show. Planar speakers shone in no less than five different colors, even loudspeakers in the highest price segments shimmered in vivid blue and bright orange, horns were nobly tinted in dark violet, and gripping signal red seemed to be all the rage at HIGH END 2023.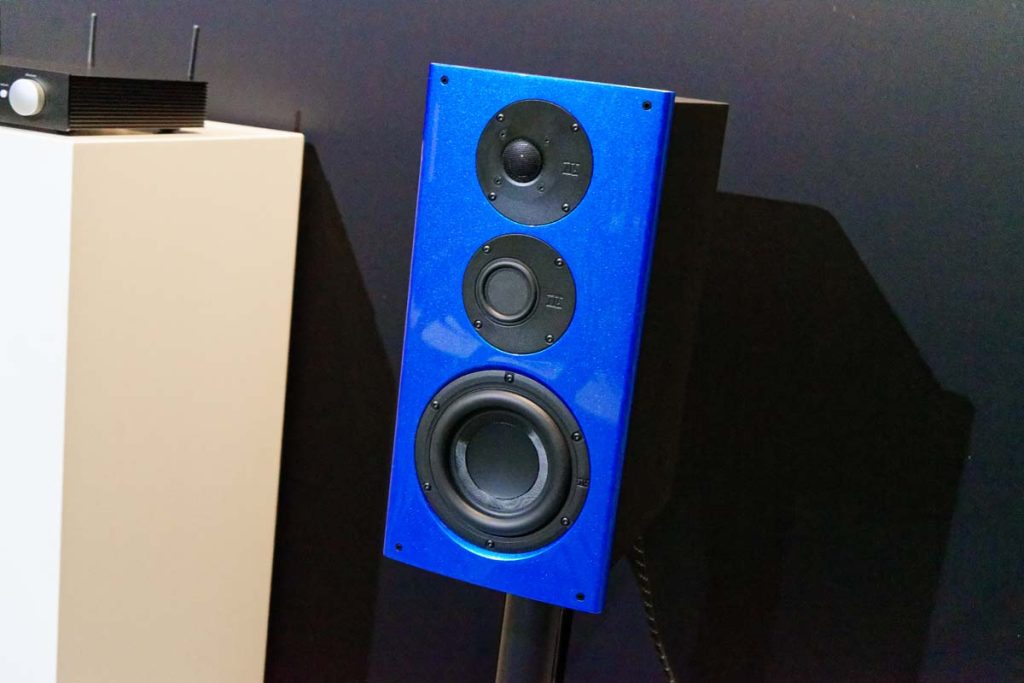 It was astonishing that the courage to use color prevailed, especially in the premium segment, whether in the dynamic and driving performance of Magico or the transparent resolution wonders from Meridian's large DSP series. We can only hope that the end customer will be as aesthetically courageous as some manufacturers have currently been when purchasing their gems. Less courageously, most manufacturers and distributors acted again this year in the matter of music. Especially on the trade visitor days, they played it safe in order not to overtax the listeners or to bring the speakers into possible calamities. In addition, at NONE of the booths was there any music playing that would have appealed to an audience between 16 and 25 – this says it all on the subject of catering to younger audiences.


Hi-Fi Show Also Means Spectacle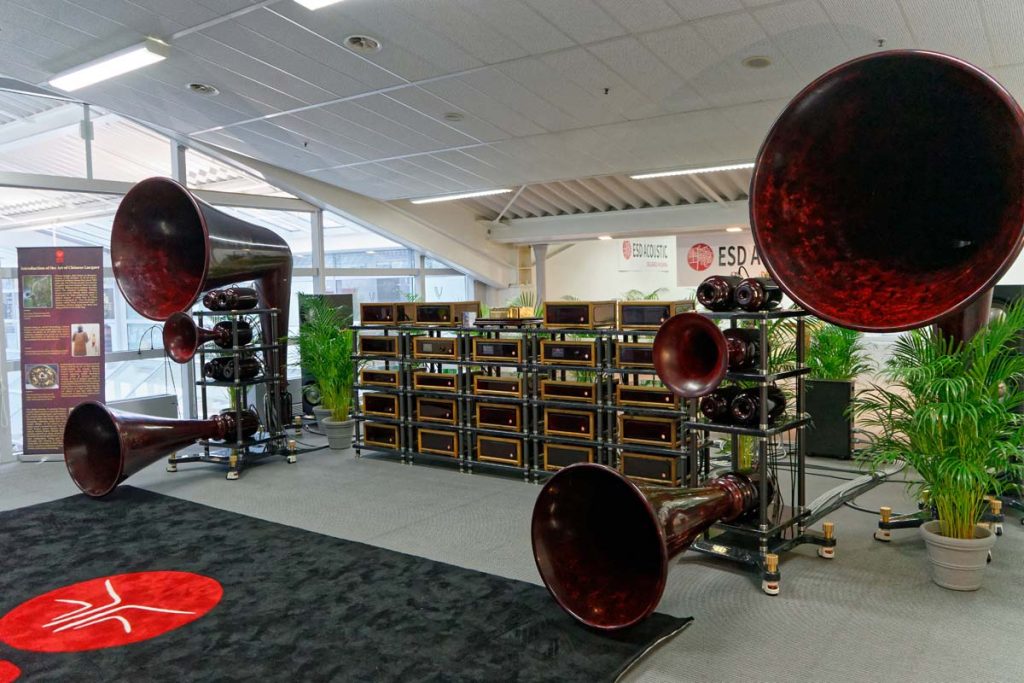 After all, the Munich trade show is not only committed to presenting new products, but also promises a certain amount of spectacle. At HIGH END 2023, there was first of all the giant horn system of the Chinese manufacturer ESD, which took up an entire section of the hall and whose acquisition, including amplification, would make the petty cash fund poorer by a seven-digit dollar amount. With the necessary listening distance, one could listen to an impressive reproduction of Asian gongs and drums. Classical music, on the other hand, was bizarre when the violinist in Dvořák's Violin Concerto seemed to be standing on a two-meter-high pedestal and the violin in the image took on the girth of a double bass – but those who want spectacle don't dwell on the grumblings of a classical music reviewer.
While the spectacle of ESD was new at the fair, the second big event might have attracted many old acquaintances after a short absence. Friends of the cultivated medium-wave sound once again got their money's worth at Silbatone and Western Electric. It is logistically, visually and technically fascinating how the Korean exhibition team managed again this year to combine museum specimens of loudspeaker construction with a lot of patina with Silbatone's highly sophisticated electronics. In terms of sound, one has to accept that a clarinet can hardly be distinguished from an oboe, and that the sound and tuning are better suited to the Westkurve of the Allianz Arena than to a domestic setting, but the Silbatone team nevertheless deserves credit for their commitment to vintage horns, and their room became a magnet for spectators time and again, especially on the public days.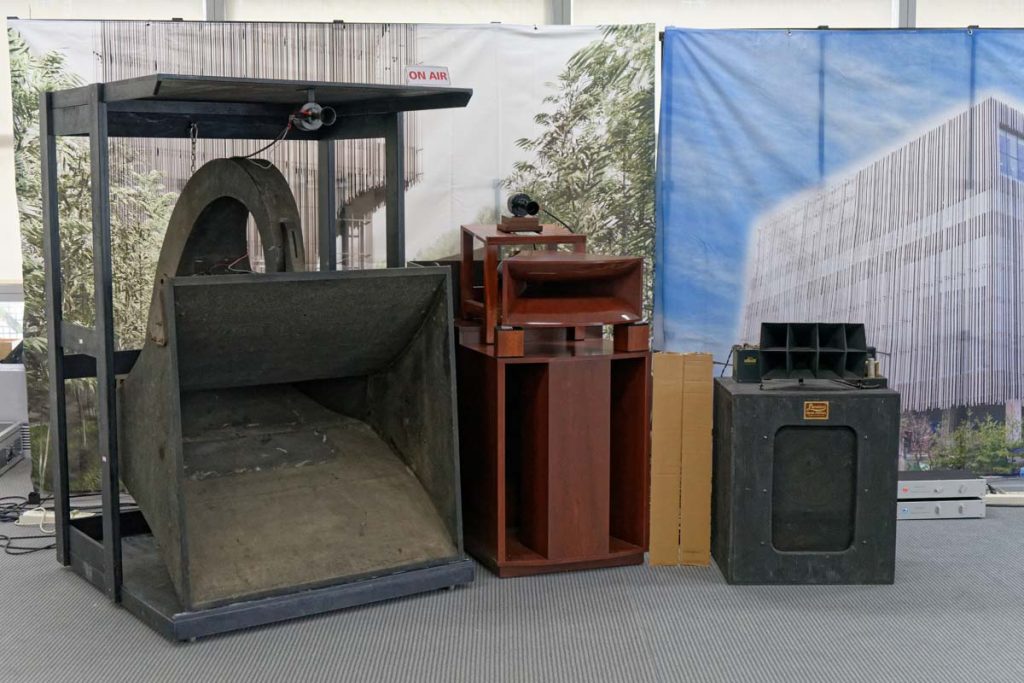 Small Speakers, Big Sound
Let's do a complete about-face and turn to the small monitors, which could be admired mainly in the halls on the first floor, while in the demonstration rooms on the upper floors, people rather indulged in the large cutlery. The combination of "small" and "active" gave pleasure especially with Cabasse. The Cabasse Rialto must rather be described as a small speaker, which is why one was all the more amazed at the extent to which vocals came off the drivers and the tremendous bass foundation they then built on. Especially with such small speakers, active concepts have a clear advantage.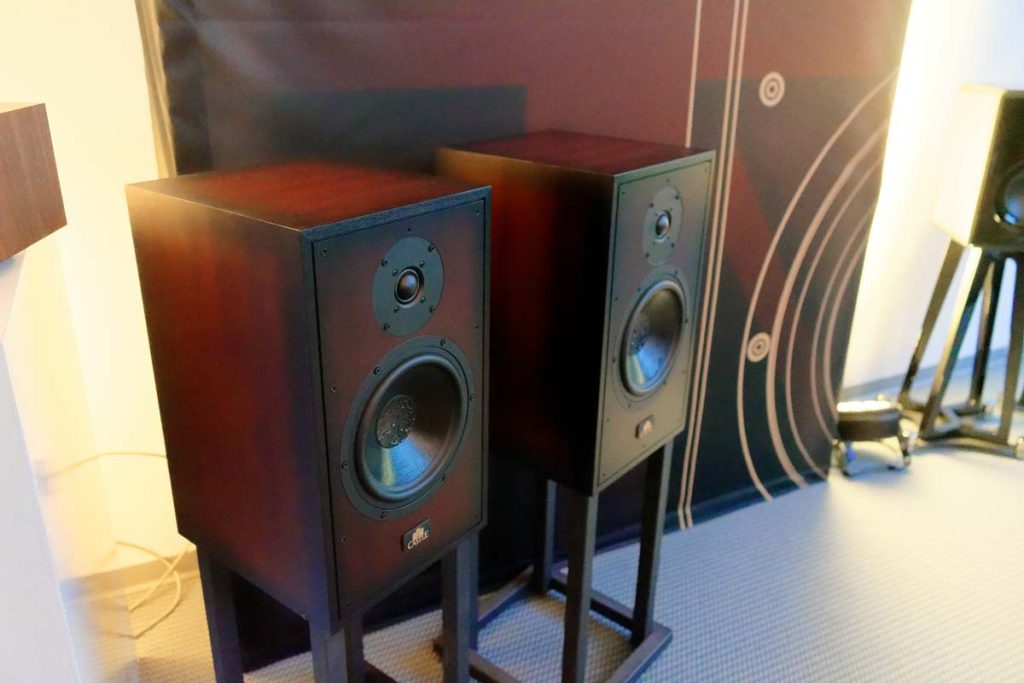 If the volume is somewhat larger, then passive concepts are again in the running with reasonable amplification. The Earl and Duke models from Castle showed that a deep bass is not necessarily dependent on the size of the cabinet. Characterized by British noblesse, the loudspeakers created a powerful and coherent sound image in the room, which made me look for a subwoofer, which of course was nowhere to be found.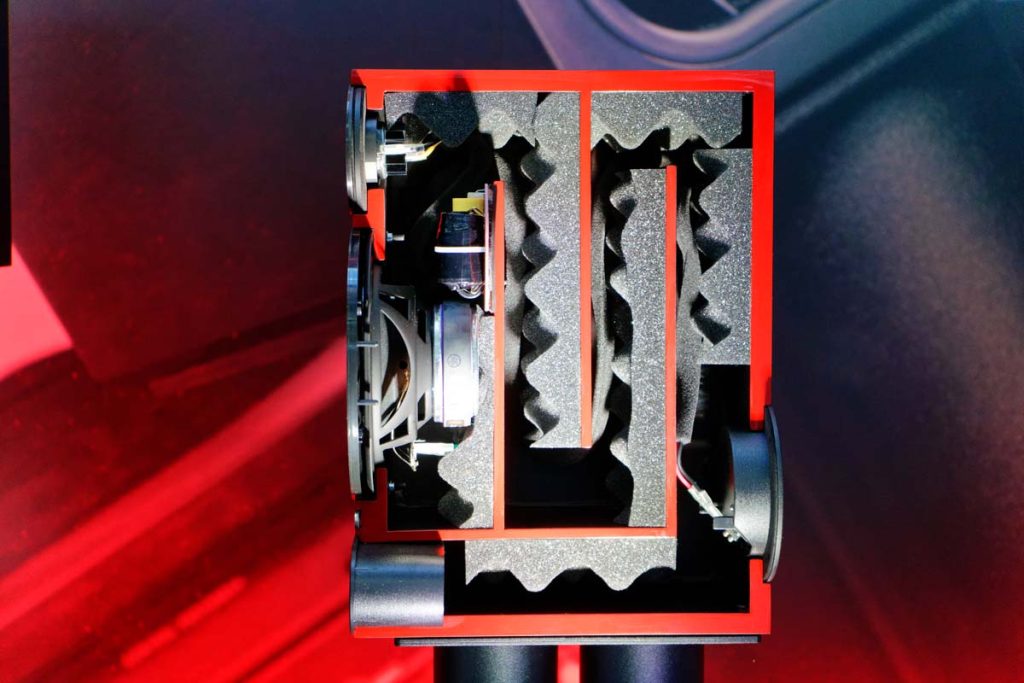 A peek at the folded transmission line of the new PMC Prodigy1 – not only is the speaker nice and small, it also comes in at a refreshingly modest price.
Attainable Is En Vogue Now
As was the case last year, HIGH END 2023 saw an increased number of loudspeakers presented that ranged in price from 4,000 to 6,000 euros, which is not least due to clear words of power of the dealers to manufacturers and distributors. In addition to the already mentioned compact models from Castle, Wharfedale's new Aura series lined up here. Thus, the floorstander Aura 4 was a formidable fun maker that will make all those happy who want to combine uncomplicated music pleasure and level listening. Coming in at just over 6,000 euros, Wharfedale's Dovedale initially looks like an oversized Linton, but pursues a completely different, namely more grown-up and immensely serious-sounding concept.
If you look at the upper end of the price range, you'll notice that while the technical aspects are still pushed to the forefront at presentations, most serious prospective buyers are now paying very specific attention to the qualities of a luxury product, which don't have to do with frequency response or crossover design alone. Haptics, veneer quality, and even the appearance and material quality of the feet, trusses or terminals are all definitive decision criteria. Two outstanding loudspeakers here came from Marten, which offered a holistic feast for the ears and eyes with the new Mingus Septet and the Mingus Orchestra, which was even surpassed by the pure touch quality. High End in pure culture.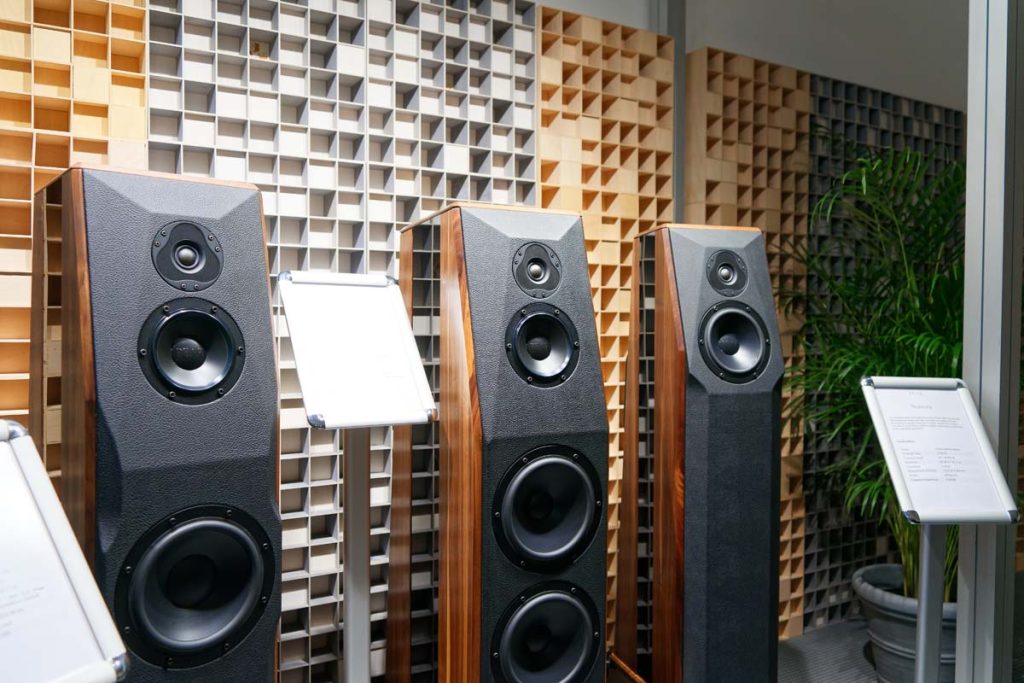 Regional Hi-Fi
If I were to name my three personal High End 2023 highlights, they would all be transducers from domestic [German] production. Right at the top would be the Fink Team Borg Episode 2, as Karl-Heinz Fink calls the slightly revised version of his flagship speaker with a wink and in allusion to the Star Trek series. For the unchanged price of 29,900 euros, you still get a no-nonsense machine that is quite disinterestedly simply committed to the music by combining quite unpretentiously dynamics, impulse fidelity, transparency and high musicality.
I was very positively surprised by Thorens' SoundWall HP 600. A design-technically extremely successful mixture of retro and slightly spacy futurism, which was able to convince with all the sonic finesses of a well thought-out dipole concept, without neglecting the bass and dynamic range, which is sometimes tricky for dipoles. For me, the much bigger surprise at Thorens than the giant "Reference" drive developed for the company's anniversary.
When The Listener Doesn't Come To The Concert…
The third highlight hid at the very top in one of the rear corners and was Wolf von Langa's Chicago electromagnetic loudspeaker. Visually, it certainly took some getting used to, but it was especially convincing with large orchestral music with a live quality of timpani and brass that makes one think about taking a seat in the listening room at home to listen to Stravinsky or Mahler instead of going to a concert.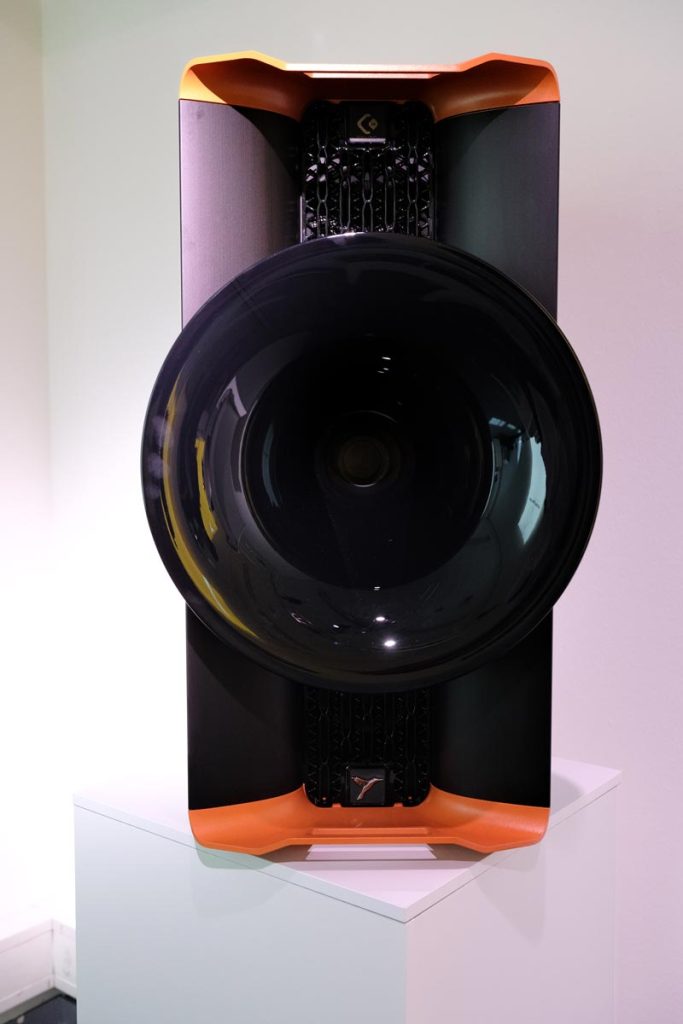 This purely subjective view admittedly undercuts many other successful transducer concepts at this year's HIGH END, but perhaps you will use the short virtual tour here to whet your appetite for a visit to HIGH END 2024 and then put together your very own portfolio of individual favorites.
The stated retail price of the reviewed device is valid as of the time of the review and is subject to change.


All images courtesy of FIDELITY magazine.