Milestones
This is the 150th issue of Copper! We are thrilled to have reached this milestone. It would not have been possible without our exceptional staff. I am honored and more than a little humbled to be working with such a talented group.
Putting out a magazine every two weeks isn't easy. Well, our writers and artists are the ones who make it possible for us to keep Copper rocketing ahead, and you, the readers, are the ones who inspire us. I am continually delighted at what our writers contribute, at the covers by Cartoon Bob D'Amico that give Copper such a distinctive visual identity, at James Whitworth's and Peter Xeni's wry cartoons, and the images taken by our Parting Shot photographers.
Naturally, credit has to go to Paul McGowan, our enabler-in-chief, along with previous editor Bill Leebens and editorial superwoman Maggie McFalls, who were gracious beyond words in helping me climb aboard more than 50 issues ago.
You might have noticed that Jay Jay French has been absent the last few issues. That's because he's on a promotional tour for his new book, Twisted Business: Lessons from My Life In Rock 'n' Roll. Jay Jay will be back and rocking these pages again soon.
In this issue: Rudy Radelic asks: what's in a number? 150, that is. In The Mindful Melophile, Don Kaplan offers 150 of his favorite recordings, and I list my favorite 150 rock and pop albums. Steven Bryan Bieler looks at a ranking of the best 150 albums made by women. Anne E. Johnson considers 150 years of Aida, and has an overview of multifaceted rocker David Bowie. We have two Capital Audiofest 2021 show reports from Harris Fogel and Steve Kindig. Tom Gibbs finds a new attractively-priced DAC. Ray Chelstowski interviews Don Airey of Deep Purple about their new Turning to Crime album, and I talk with saxophone master Frank Catalano.
Adrian Wu continues his series on exceptional analog recordings. Tom Methans has a conversation with Shannon Parks about the ultra-flexible Parks Puffin phono preamp. John Seetoo concludes his series on Christian music innovator and super-guitarist Phil Keaggy. Russ Welton asks which is better when it comes to speakers and subs: large or small? New contributor Jack Flory remembers when he was a boy fascinated with all things audio, and Stuart Marvin has a fond look at the 1960s musical magic of the Fillmore East and other New York venues. Ken Sander sets the wayback machine to two San Jose, California music festivals. B. Jan Montana rides ahead. J.I. Agnew concludes his series on the dazzling direct-metal-mastered DMM Dubplate, Vol. 1. We wrap up the issue with a rotating Staar, a cheesy situation, some vinyl aeronautics, and magnificent mesas.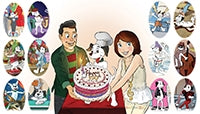 Staff Writers:
J.I. Agnew, Ray Chelstowski, Cliff Chenfeld, Jay Jay French, Tom Gibbs, Roy Hall, Rich Isaacs, Anne E. Johnson, Don Kaplan, Ken Kessler, Don Lindich, Tom Methans, B. Jan Montana, Rudy Radelic, Tim Riley, Wayne Robins, Alón Sagee, Ken Sander, John Seetoo, Dan Schwartz, Russ Welton, WL Woodward, Adrian Wu
Contributing Editors:
Ivan Berger, Steven Bryan Bieler, Jack Flory, Harris Fogel, Robert Heiblim, Steve Kindig, Ed Kwok, Stuart Marvin, Andy Schaub, David Snyder, Bob Wood
Cover:
"Cartoon Bob" D'Amico
Cartoons:
James Whitworth, Peter Xeni
Parting Shots:
James Schrimpf, B. Jan Montana, Rich Isaacs (and others)
Audio Anthropology Photos:
Howard Kneller, Steve Rowell
Editor:
Frank Doris
Publisher:
Paul McGowan
Advertising Sales:
No one. We are free from advertising and subscribing to Copper is free.
 – FD